Home
Tripura is a hilly state in northeast India, bordered on 3 sides by Bangladesh, and home to a diverse mix of tribal cultures and religious groups. In the capital Agartala, the imposing Ujjayanta Palace is set among Mughal gardens, and Gedu Mia's Mosque has white marble domes and towers. South of the city, Neermahal summer palace sits in the middle of Lake Rudrasagar and blends Hindu and Islamic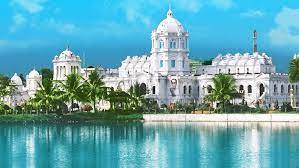 Within its small geographical area, Tripura offers plenty of attractions for the tourists in the form of magnificent palaces ( Ujjayanta Palace and Kunjaban Palace at Agartala and Neermahal – Lake Palace at Melaghar ), splendid rock-cut carvings and stone images ( Unakoti near Kailashahar, Debtamura near Amarpur
Tourist Places in Tripura
Unakoti, Neer Mahal Palace, Ujjayanta Palace, Tripura Sundari Temple, Jampui Hills, Devtamura, Tepania Eco Park, Udayan Buddha Vihar, Mekhlipara Tea Estate, Rudrasagar Lake, and many more.
Tourism in Tripura: Exploring the Hidden Gem of Northeast India
Nestled in the far eastern corner of India, Tripura is a land of unspoiled beauty, rich cultural heritage, and pristine landscapes. While it may be one of the smallest states in the country, Tripura is brimming with unique attractions that make it a hidden gem for travelers seeking offbeat destinations. From lush green valleys and majestic mountains to ancient temples and vibrant festivals, Tripura offers a diverse range of experiences that are sure to leave visitors enchanted. In this article, we will take a closer look at the tourism potential of Tripura and discover why it is worth a visit.
Natural Splendor:
Tripura is blessed with abundant natural beauty that captivates the senses. The state is adorned with rolling hills, dense forests, gushing waterfalls, and serene lakes. One of the must-visit places is the majestic Jampui Hills, known as the "Orange Bowl of Tripura," where one can witness breathtaking sunrise and sunset views. The Dumboor Lake, surrounded by lush greenery and hills, offers a tranquil escape and is perfect for boating enthusiasts. The pristine waterfalls like Chabimura and Vanghmun add to the charm of the state and provide a rejuvenating experience.
Cultural Heritage:
Tripura boasts a rich cultural heritage that dates back centuries. The state is home to a diverse mix of tribal communities, each with their own unique customs, traditions, and handicrafts. Travelers can immerse themselves in the vibrant tribal culture by visiting villages like Udaipur, known for its exquisite traditional crafts, and witnessing traditional dances like the Hojagiri dance performed by the Reang community. The Tripura Sundari Temple, dedicated to the goddess Tripura Sundari, is a significant pilgrimage site and showcases stunning architectural brilliance.
Architectural Marvels:
Tripura is dotted with ancient architectural marvels that reflect its glorious past. The Neermahal Palace, located in the middle of Rudrasagar Lake, is a mesmerizing sight and a perfect blend of Mughal and Hindu architectural styles. The Ujjayanta Palace, the former royal residence and now a museum, is another architectural gem that houses a vast collection of artifacts, including ancient manuscripts, sculptures, and paintings. These palaces offer a glimpse into the opulent lifestyle of the royal families of Tripura.
Festivals and Cuisine:
The festivals of Tripura are vibrant and showcase the cultural diversity of the state. The most famous festival is the Kharchi Puja, held at the Chaturdasha Devata Temple in Agartala, where deities are worshipped to seek their blessings. The Poush Sankranti Mela, celebrated in December, is another popular festival known for its traditional music, dance, and local delicacies. Speaking of cuisine, Tripura offers a unique gastronomic experience with dishes like bamboo shoot curry, Chakhwi (fish stew), and Muya Awandru (a rice cake) that are sure to tantalize your taste buds.
Unexplored Treasures:
One of the biggest advantages of visiting Tripura is that it remains relatively unexplored by mass tourism. This allows travelers to enjoy the serenity of the place, interact with friendly locals, and discover hidden gems that are off the beaten path. The calm and peaceful environment, coupled with the warm hospitality of the people, creates a truly memorable experience for visitors.
Choosing the "best" hotel in Agartala can depend on personal preferences and specific requirements. However, here are a few highly recommended hotels in Agartala based on their reputation, amenities, and customer reviews:
Ginger Hotel Agartala: Located in the heart of the city, Ginger Hotel offers comfortable rooms, modern amenities, and excellent service. It is known for its cleanliness, friendly staff, and value for money.
The Sonar Tori: This boutique hotel is renowned for its traditional architecture, tastefully decorated rooms, and warm hospitality. It offers a range of amenities, including a restaurant serving local and international cuisine.
Hotel City Centre: Situated in a prime location, Hotel City Centre provides well-appointed rooms, a multi-cuisine restaurant, and a rooftop terrace with panoramic views of the city. It is popular among both business and leisure travelers.
Hotel Welcome Palace: Known for its friendly staff and comfortable rooms, Hotel Welcome Palace offers a pleasant stay experience. It has a restaurant serving delicious Indian and Chinese cuisine and is conveniently located near major attractions.
Hotel Rajdhani Regency: This hotel offers spacious rooms, modern amenities, and a convenient location. It has an in-house restaurant and is known for its attentive service and value for money.
When it comes to the best places to visit in Agartala, there are several attractions that showcase the city's rich history, cultural heritage, and natural beauty. Here are some of the top places to explore in Agartala:
Ujjayanta Palace: Formerly the royal residence of the Tripura kings, the Ujjayanta Palace is now a museum that houses a remarkable collection of artifacts, including archaeological findings, royal regalia, sculptures, and paintings. The palace's beautiful architecture and landscaped gardens make it a must-visit attraction.
Neermahal Palace: Situated in the middle of Rudrasagar Lake, Neermahal Palace is a stunning example of architectural grandeur. It was built as a summer retreat by the Tripura kings. The palace reflects a fusion of Mughal and Hindu architectural styles and offers boat rides for visitors to enjoy the picturesque surroundings.
Tripura Sundari Temple: Located in Udaipur, about 55 kilometers from Agartala, the Tripura Sundari Temple is one of the holiest shrines in Tripura. It is dedicated to the goddess Tripura Sundari and features intricate carvings and beautiful sculptures. The temple complex also offers a serene and tranquil atmosphere.
Sepahijala Wildlife Sanctuary: Nature enthusiasts should not miss a visit to the Sepahijala Wildlife Sanctuary, located on the outskirts of Agartala. The sanctuary is home to various species of animals, birds, and reptiles. Visitors can enjoy boat rides, nature trails, and birdwatching in this lush green haven.
Heritage Park: This park is a wonderful place to learn about Tripura's cultural heritage. It features replicas of traditional tribal houses, sculptures, and monuments that represent the diverse tribal communities of the region. The park also hosts cultural performances and exhibitions.
Jagannath Temple: Situated in the heart of Agartala, the Jagannath Temple is a popular religious site for both locals and tourists. The temple's beautiful architecture and serene ambiance attract devotees and visitors seeking spiritual solace.
Sukanta Academy: Named after the renowned poet Sukanta Bhattacharya, this academy is dedicated to promoting literary and cultural activities. It has a library, an auditorium, and hosts cultural events, seminars, and exhibitions.